We're not doing that much sailing these days, but Linda does like to be at the boat.  Which gives me a lot of time to work on the boat and complete small projects.
This last weekend, I replaced the traveler control lines, which had become very frayed.  The control lines attach to the traveler car with a clevis pin that goes through an eye in the end of the line.   I had never done an eye splice in double braid line before, but with a little research found that it was not difficult.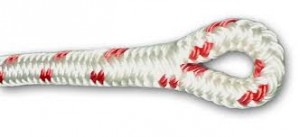 In fact, the most difficult part was reconciling the numerous but inconsistent guides on the Internet.  The PDF document download below contains my notes, compiled from the research.
Also, for many boat projects you can re-purpose common household tools, but for splicing you really do need a set of fids.  Having made a set of soft shackles both with and without fids, they make it much, much easier.  I recommend the Allen Selma kit, available at Defender.
[wpdm_file id=14]