Well, after ten days and 110 miles I'm going to have to come off trail.  I did complete section A of the PCT.
It's been a very hard decision, made particularly frustrating in that the last day of hiking was my favorite, foreshadowing what was to come.  I camped high on a ridge line the night before and awoke at 3:30 to do a little night hiking before the rising sun brought the heat of the day.  Dawn has always been my favorite part of the day.  I love watching the light peek over the hills and start to paint the valleys.  Between the stars and the waning gibbous moon, I almost didn't need a headlamp.  There were even a few shooting stars.  It was during this first stretch that I hit the hundred mile mark.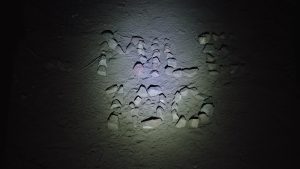 The landscape changed as I descended the mountain and headed across the valley towards Warner Springs.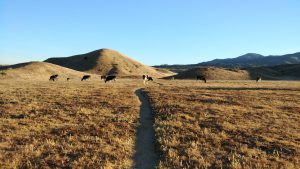 It was also at this point that my feet flared again.  From the first day I had been struggling with plantar fasciitis in both feet.  Despite taping them, altering my gait, dramatically limiting my daily millage, and even taking a rest day in Laguna Mountain, my feet continued to get worse.  I finished the last eight miles at a crawl, my limitations made more obvious by the waves of hikers passing me. Even after resting for the afternoon, and trying new shoes, each step was painful.
And so it's clear that its not realistic for me to continue in this condition.  I'm going to step off the trail and regroup, and process lessons learned.
Obviously, my physical preparation was not what I had hoped, although my legs and endurance were fine.  I think it was a mistake to switch shoes a few weeks before the start.  The shoes I had been using were rubbing my achilles tendons, so I switched to ones popular with hikers.  Once on trail, I found I hated them–way too soft and spongy, with no trail feel or support.
I'm very grateful for having had this opportunity, and for all of the help I had in this effort, both from friends and family and from the broader community of people who support the PCT hikers.
Highlights of the last few days: