After a few days with Tandy, I headed up to Cascade Locks, Oregon, to start to get into the right frame of mind for hiking the Pacific Crest Trail by attending PCT Trail Days.
From their web site:
Pacific Crest Trail Days is a 3-day summer festival that celebrates outdoor recreation, with a focus on hiking, camping, and backpacking.  Attendees are able to learn about outdoor products from exhibiting sponsors, participate in activities, games & presentations, win awesome gear at the raffle, enjoy local food & beverages, and get great deals at the gear expo.
It was all of that and more.  I met three of my favorite YouTube hiking vlogers, joined the PCT Organization, talked to hikers and dozens of gear vendors (most of the cottage scale), walked across the Bridge of the Gods into Washington (a little scary, with high winds, a grate surface, and no room for pedestrians), won some gear ties in the raffle, and consumed my share of local craft beer.  Evenings were spent camping on Thunder Island, with live music from the venue just across the water.
As PCT Trail Days wound down, and Total Eclipse 2017™ day approached, Oregon got progressively more crowded.  On the way up I passed several places where farmers had converted their "path of totality" fields into temporary fair grounds, with 1000's of campers, concessions, a sea of porta-johns, hot air balloons, etc. I decided to go back to Tandy's for the event, concluding that watching 90% of the eclipse with friends would be more fun than watching 100% with 5,000 strangers.  It was fun, and I was glad to share it with them.  Fortunately, I had a half-dozen pairs of official, ISO 12312-2 compliant eclipse glasses that I picked up for free at the NASA booth at Oshkosh.
Remember the 1950's/1960's PSAs?  In the event of a nuclear attack, don't look directly at the mushroom cloud unless you have your eclipse goggles.
A few more days chilaxing with Tandy at his place and then it was time to head south.
On the way back south I had a chance to stop and visit Gayla and Jack in Modesto before they left to go back to Oklahoma.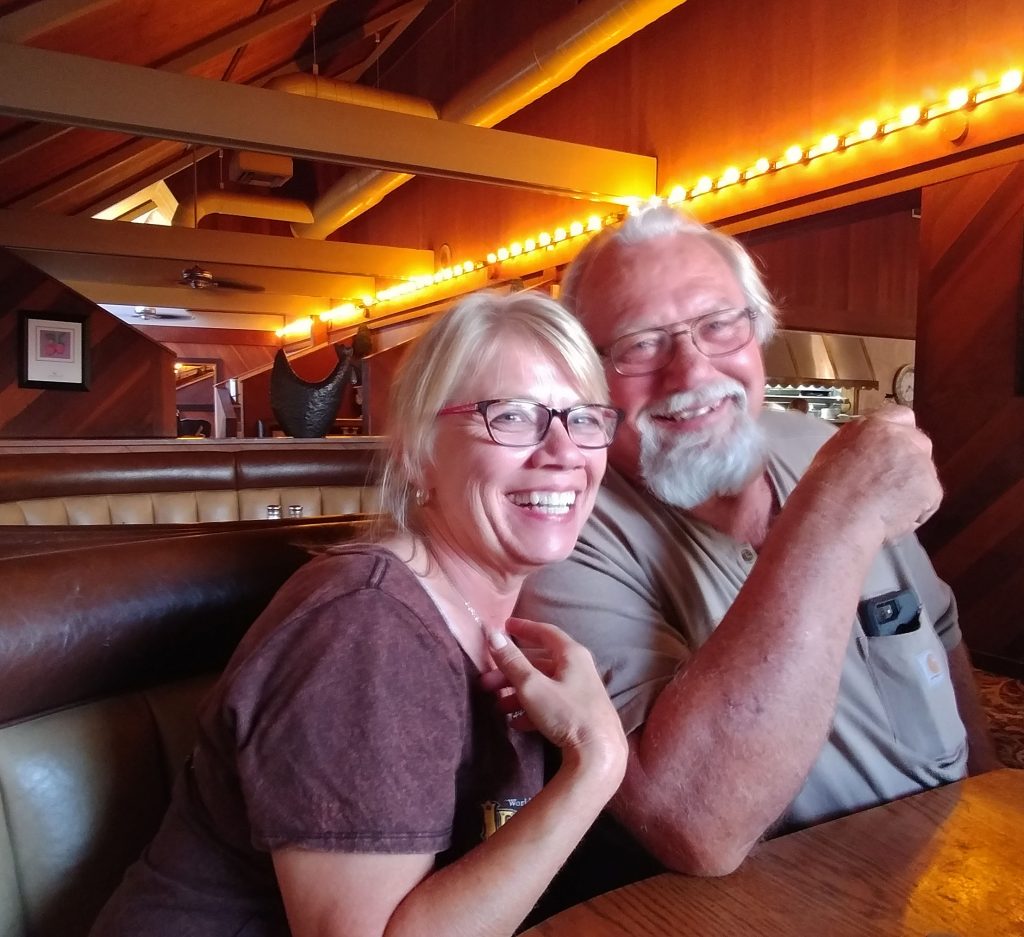 After leaving Modesto, I managed to catch up with Gail in Santa Clara.  She did a PT evaluation with me and, over dinner, was kind enough to write up a series of exercises to help me get ready for the trail next year.
And with that, I headed back to Oxnard and the boat.  It was a great trip, but it was also good to have my own pillow for a few days.